Please use this fact sheet as background information to aid discussions with your doctors. Individual cases may vary enormously and so the best information will always come from your doctors. The information in this sheet has been checked for accuracy by a leading Uveitis Specialist.
Birdshot Chorioretinopathy (often shortened to Birdshot, Birdshot Uveitis, BSCR, BSRC) is a rare, auto-immune, potentially blinding and chronic form of posterior uveitis. Uveitis means Inflammation of the uvea, the part of the eye that is made up of the iris, the choroid of the eye, and the ciliary body. The uvea provides most of the blood supply to the retina. In the picture of the eye below, you can see where the iris, the choroid and the optic nerve are placed.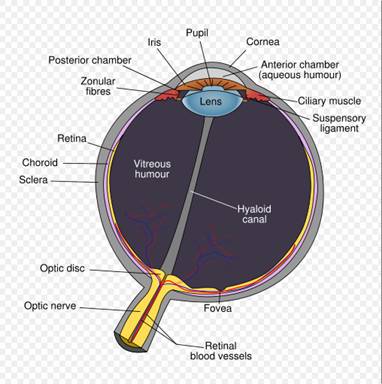 Human eye schema – by Rhcastilhos, via Wikimedia
What are the symptoms of Birdshot?
Usually, the initial symptoms of Birdshot (and many other forms of posterior uveitis) will be floaters and/or blurred vision caused by inflammatory cells in the vitreous. The vitreous is the jelly like substance between the front and back of your eye and is marked on the diagram above. This inflammation in the vitreous or inflammatory cells in the vitreous is called vitritis.  You are likely to have a gradual, painless loss of vision involving one or both eyes.  However, in the initial stages, you may be able to continue to see well (retain good visual acuity).
There are sometimes other symptoms which may include:
Night blindness or Impaired vision in dim light (Nyctalopia)
Defective colour vision and difficulty distinguishing between certain colours (Dyschromatopsia)
Sensitivity to bright lights or glare (Photophobia)
A perception of flickering or flashing lights (Photopsia)
Fluctuating vision
Pain in the eyes
Decreased ability to perceive depth
Shimmering vision (this is difficult to describe, but some people describe it as being like looking through glass or through water)
Distorted images (Metamorphopsia)
Decreased peripheral vision (peripheral vision is the ability to see on either side, whilst looking forward)
Ceiling Fan effect – when you close your eyes you are left with an image of a ceiling fan whirring around
If you have had Birdshot for some time, an ophthalmologist is likely to be able to see oval shaped spots, which are orange to cream in colour at the back of your eyes in your retina. The reason this disease is called Birdshot is because these spots resemble the pattern seen when you fire birdshot pellets from a shotgun.
Because Birdshot is a rare disease, it can often be misdiagnosed in the initial stages, particularly as the 'birdshot spots' are often not clearly visible to begin with.
What causes Birdshot Chorioretinopathy?
It is not known what causes Birdshot. It is believed to be an autoimmune disease.  An autoimmune disease is an illness that occurs when the body tissues are attacked by its own immune system.
The majority of people who are diagnosed with Birdshot (although not all) carry an antigen called HLA- A29.  An antigen is a substance that enters the body and stimulates the production of an antibody to fight what the immune system perceives as an invader.  Because most people who are diagnosed with Birdshot carry this antigen, it may mean that they have an inherited immune dis-regulation, and research is currently being undertaken to try and clarify this.
However, many people carry the HLA-A29 antigen and never get Birdshot.  It is therefore assumed that other factors must initiate the onset of the disease (a 'trigger').  This 'trigger' may be a virus or an environmental factor.
Background
The first case of Birdshot was described in 1949 by two ophthalmologists, Franceschetti and Bable.  But it was not until 1980 when two other ophthalmologists, Ryan and Maumenee coined the term 'Birdshot'.  There is a general view amongst many researchers and ophthalmologists that Birdshot is a relatively new disease, which had not occurred prior to the first description in 1949.  They believe that, as the symptoms are so striking, they would have been recognised had they occurred prior to 1949.
Frequency of Birdshot
Birdshot is a rare disease.  A rare disease is defined in Europe as: a disease affecting less than 5 per 10,000 inhabitants and is fatal or severely debilitating.  Because Birdshot is a relatively new disease, it is difficult to identify how many people have been diagnosed with it. Recent research carried out by Annie Folkard and Rea Mattocks (the authors of this site) suggests that whilst Birdshot remains a rare disease under this definition, it is either increasing in incidence or being more readily diagnosed.
What is the progress of the disease (prognosis)?
Birdshot is a potentially blinding disease, particularly if it is untreated. There are some people in whom the disease seems to be very mild (runs a relatively benign course), with patients maintaining good eyesight (or visual acuity) with minimal medical intervention.
However, the typical course of Birdshot, like other autoimmune diseases, is characterised by flare ups of inflammation inside the eyes (exacerbations which cause loss of visual acuity if left untreated) and remissions. Because of this, many ophthalmologists believe in quite an aggressive approach to ensure that inflammation is kept to a minimum and the maximum amount of visual acuity can be preserved.
The most concerning issue relating to Birdshot is that if left untreated, or if flare ups are aggressive, it can lead to macular oedema (this is a swelling of the macula layer in the eye) which can cause blindness.
Who gets Birdshot?
Because of the link to the HLA-A29 antigen, which is found more frequently in Caucasians, most people with Birdshot are Caucasian. There does not seem to be a gender bias, although some ophthalmologists report diagnosing more women than men.
It has been widely published that the average age of onset of Birdshot is 45 to 50 years and that it is a disease unlikely to affect people under the age of 35.  However it can affect much younger people, including people in their 20s and 30s.  It may even be possible for children to have Birdshot.  This is important, as many ophthalmologists would not necessarily think to test for Birdshot if you do not fall into the age group of 45 years old and above.
Is there a cure for Birdshot?
At this moment in time, there is no known cure for Birdshot. Most research being undertaken is looking at finding alternative and more effective medications that have fewer side effects.  However, there is some research being undertaken to establish the genetic links and the 'triggers' for Birdshot and this may lead to a cure or a prevention regime in the future.
Currently, the aim is to ensure that people with Birdshot reach remission or a stabilisation of their condition. However, getting diagnosed and receiving appropriate medication can feel like a bit of a lottery.
This is because:
Firstly, the condition is difficult to diagnose, due to its rarity (many doctors and opticians will never have seen a case of Birdshot).
Secondly, there is still a belief amongst certain ophthalmologists that Birdshot is a self-limiting disease and will eventually 'go away' or 'burn out'.
Thirdly, even if you are diagnosed, because this disease is a rare disease, newer forms of medication may be difficult to access on the NHS, as there is not a large body of evidence to support their efficacy.
Fourthly, it is our experience that each individual with Birdshot responds differently to different medication regimes and has a virtually unique course that their disease follows.
Much of the treatment for Birdshot, therefore, has to rely on a very strong relationship between the patient and their ophthalmologist with frequent contact and a willingness on the part of the ophthalmologist to listen to what the patient believes is going on in his/her eyes and a willingness to use newer forms of medication if the more traditional ones appear not to work.
Next: Tests for Birdshot