Please contact BUS if you would like us to send you copies of any of the following publicity materials. We would be very pleased if you can help us publicise the Birdshot Uveitis Society for us in your locality.
You are also welcome to print your own copies by clicking on the orange links below. This helps save valuable resources and reduces Birdshot Uveitis Society costs on postage and printing.

General leaflet as a pdf file about the Birdshot Uveitis Society – in black & white suitable to be printed on a normal inkjet or laser printer on A4 paper.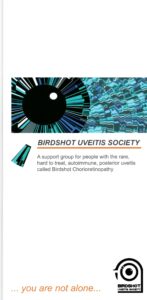 Informative leaflet giving factual information about the Birdshot Uveitis as well as describing the work that Birdshot Uveitis Society undertakes, explaining the Birdshot Uveitis Society's objectives and work. Please contact us if you would like to receive copies to help explain your condition to your family and friends and also to assist with promotion and fundraising for us. The cost of producing this brochures was sponsored by John F Hunt and C3 Print Group. They are a pocket sized 4 fold leaflet. The leaflet can also be downloaded from here: Birdshot Uveitis Society brochure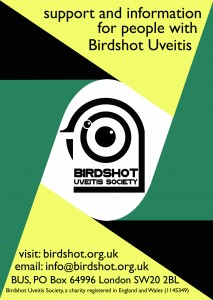 Publicity poster for display in Eye Clinics, Hospitals, Opticians, Doctors surgeries etc. These are best printed in colour at A4 size.