With more Birdshotters registering on BUS, we are beginning to develop a better picture of Birdshot.  One of the interesting questions that keeps arising is whether certain geographical areas have more people with Birdshot.
At our Birdshot Day on 3 March, we were quite amazed to find two people with Birdshot from a very small town.  They were equally amazed!  We have also noticed that there are several members who live within a few miles of each other in an urban area and another 'cluster' in a northern city – again quite disproportionate to the probable total numbers of people with Birdshot in the UK.
We would really like to build up a more accurate picture of the geographical spread and we can only do this with your help.
We would love to have your postcode (if you have not already supplied us with it) so we can map where you live, and produce a more accurate map of the geographical location of us Birdshotters.  Your postcode will be kept totally confidential – it will only be used to help us identify your geographical location on a map.  Once we have mapped the UK, we will attempt to map other countries too, and begin to build up an international picture.
Please send your postcode to us at info@birdshot.org.uk
We thought you would be interested in seeing the google analytics map of the UK of visitors to the BUS website since September 2010. Of course, not all visits are from Birdshotters, but it certainly identifies areas where the strongest interest is.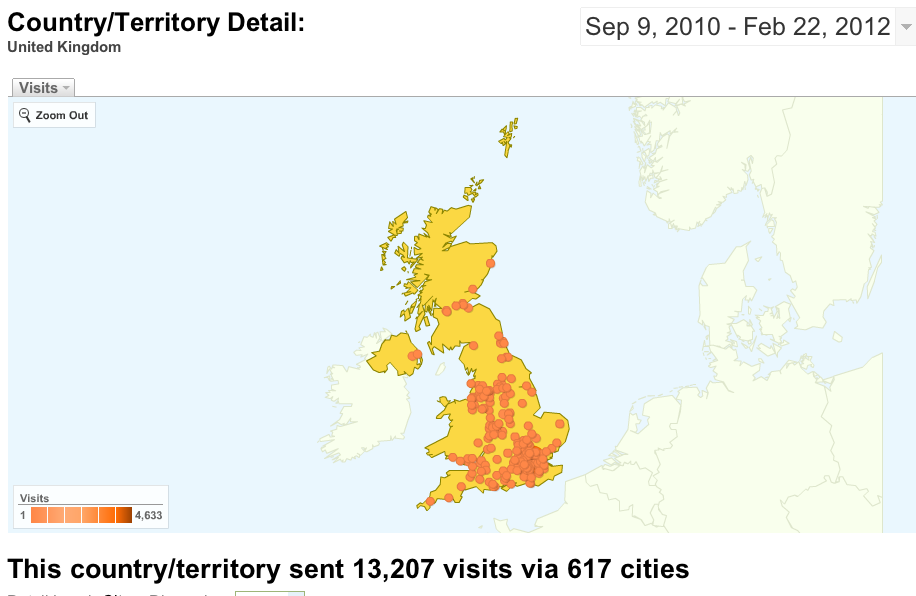 Thank you in advance to everybody who sends us their postcode, so we can produce a realistic map of the UK to show geographical locations of people with Birdshot.  This will help to make sure research and services are targeted to meet our needs.