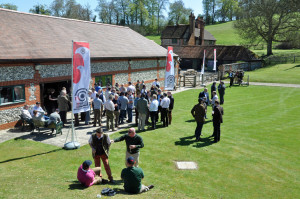 Stimulated by the sparkling form of guest auctioneer, Jeffery Archer and the generosity of those who attended, the fabulous sum of £55,882 was raised on the inaugural Birdshot Uveitis charity clay pigeon shoot.
Sponsored by the John F Hunt Group and Silverdell plc, the day was skilfully staged by Dylan Williams and the team at the Royal Berkshire Shooting School. Twenty three squads of four guns ranging from experienced shots to absolute beginners, mastered the progression of the speeding clays.
Finally assembled, having travelled from far and wide via helicopters and more new Range Rovers than one could shake a stick at, everyone gathered for a hearty breakfast of Berkshire bacon and game sausages. Following a typically witty briefing the teams suited up before moving up the grassy valley in bright sunshine.
It quickly became apparent that there were many different skill sets on display, however the general mood was one of cautious optimism. A mid-morning break saw many delicious snacks from parmesan risotto balls to onion bahjis and Mars bars consumed by the ravening hordes, who then continued their second session of shooting heading towards the home run.
A delightful menu from the Pot Kiln restaurant, Mike Robinson's 2-rosette gastro-pub in Yattendon, included everything from his home smoked salmon to artisan Snowdonia cheese and suitably fired with great food and enthusiasm in equal measure, the audience sat back for the speeches and auction.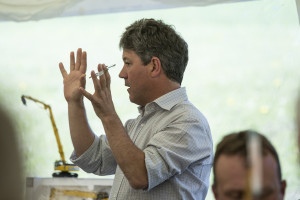 After heartfelt speeches regarding the debilitating Birdshot Uveitis disease from John Hall, a director of Birdshot and a sufferer of this rare eye condition; and Professor Will Ayliffe, an authority on Birdshot and a leading Eye Consultant, the business of the auction began.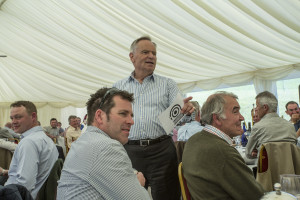 Those who know Jeffery Archer only for his work as parliamentarian and author saw new talents revealed as he cajoled, coerced and called bids from across the room, with occasional fines from souls whose only sin was not to have turned off their mobile.
The auction prizes included a day's trout fishing on the Test in Hampshire, deer stalking in Kent, ratting in Yorkshire, pheasants shooting in Hertfordshire and Japanese dining in London. Together with a holiday in Portugal, a visit to the Mercedes F1 factory, a painting by Geoffrey Key, tickets for West Ham, tickets for Twickenham and a painting by Lesley Fotherby of the Royal Ballet. In the silent auction a limited edition book on Holland and Holland and two cases of vintage champagne quietly raised funds and the final flourish came with the auctioning of twenty or so mini excavator models.
The prize distribution began. Alan Walker took the magnum of Taittinger for an inspired guess at the number of shots discharged, with an error of just 126 on 5,794.
Jonathan Bennett's Marubeni-Komatsu Commanders took the clay conservation award, Bruce Diffey's JF Demolition Derby team took whisky tumblers for the Glorious 12th award, Janet Hall the top Lady Gun and Tracey Riddington the High Gun prize.
Luke Riddington's HRH Partnership Pistols, with Patrick Boxell and the Boltons, David Snr. & Jnr. were recipients of hipflasks and subscriptions to Shooting Gazette as top team.
It is fair to say that all present enjoyed themselves comprehensively and plans are afoot for a re-run on the 21st May 2014. 
Photos: Chris Warren & Alison Sherring