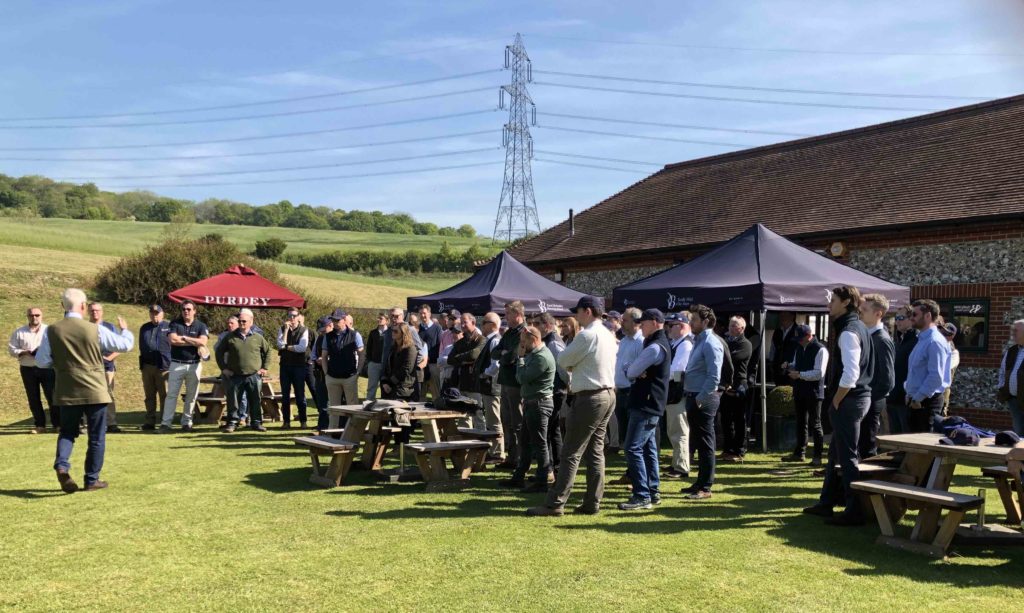 The Royal Berkshire Shooting Ground provided the perfect venue for twenty seven teams of four and attracted both novice shots and experienced guns to show their competitive skills, representing companies as diverse as Almacantar, Canary Wharf Contractors, Faithful & Gould, McLaren Properties, Malcolm Hollis and Sir Robert McAlpine. Organiser, host for the day and prime mover behind the Birdshot charity fundraiser was the John F Hunt Group.
Now firmly established as the 'go-to' event in the London construction industry calendar, the 7th. annual Birdshot Uveitis charity clay pigeon shoot was again supported by a huge contingent from the UK's property and construction sectors and proved to be both a beautiful day and a great competitive and fundraising success.
Breakfast briefing over, a morning of testing clay shooting followed and after some ferociously competitive performances, Top Gun went to leading architect, Robin Partington with a score of 93, whilst Top Team prize was claimed by Cushman & Wakefield, with Digby Flower, David Tye, Andy Miles and John Rand accruing a collective score of 428.
Shooting over for the day, John F Hunt's Group Chairman, John Hall, himself a sufferer from the visual impairment caused by Birdshot Uveitis, introduced fellow sufferer, Fiona Gee, who related her own experience of the debilitating condition. Richard Lee, Deputy Director of NIHR Moorfields Clinical Research Facility and Lead for Experimental Medicine, Inflammation and Immunotherapy, then explained how monies raised were helping to fund important research into this horrendous yet little-known eye disease.
The auction that ended the day was skilfully and amusingly conducted by David Hunt of John F Hunt Power and bidding wars broke out across the crowded dining room for lots including weekends in Naples and at the George V in Paris, all helping to raise a stunning total of £72,000. As John Hall concluded; "Today has been a brilliant success both in informing more people about Birdshot and in raising research funding. I would simply like to send a heartfelt vote of thanks to everyone who took part, for their generosity and that of our prize donors."
May 29th2019