For those of you who attended the Birdshot Day in September 2010, you will remember that one of the aims was to set up a research network. We are very excited that research has now started at Moorfields Eye Hospital, and at least two of our members are already involved in one of these studies.
The study involves the trialling of a Motion Detection Perception test.
This test will assess your ability to see a moving target on a computer screen, so it is painless and quick and easy to do. Designed by the Institute of Ophthalmology and Moorfields Eye Hospital, it has already successfully been used for detecting early stage glaucoma and the researchers want to see if this test may be equally useful for people with Birdshot.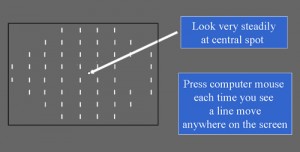 Real Ale reported he had a long and detailed interview with a researcher and was feeling more optimistic because of the care and trouble being taken. They even arranged for his cataract to be removed because it was going to aid their ability to monitor his birdshot. David reports having a similarly detailed interview with a different researcher.
Both were really impressed with the real interest shown by the researchers. We are really excited by the spin off benefits of these research projects – the raising of the profile of Birdshot, the interest being engendered in researchers and the more focussed care that patients receive as a result.
We are so grateful to 'Team Birdshot' – all the consultants, specialists, patients, family members and BUS who set up the Birdshot Day and enabled research to start. We will keep you informed as the research network progresses, and most importantly, we will be letting you know of any opportunities to become involved in research. The current research project is using patients already attending Moorfields, however future research projects will include a much wider range of patients from around the country.