URL:   RCO NEWS  A short piece about the "Birdshot Uveitis Society", the "Birdshot Day," the "Birdshot Day DVD" and the forthcoming "Birdshot Research Network Meeting" was included in the latest edition of the RCO News.  This newsletter is circulated to  a large number of ophthalmologists.  As it has a circulation list of over 1,000  it is a good place for publicity, as it will undoubtedly help us to get Birdshot Chorioretinopathy better known, across the wider ophthalmology community.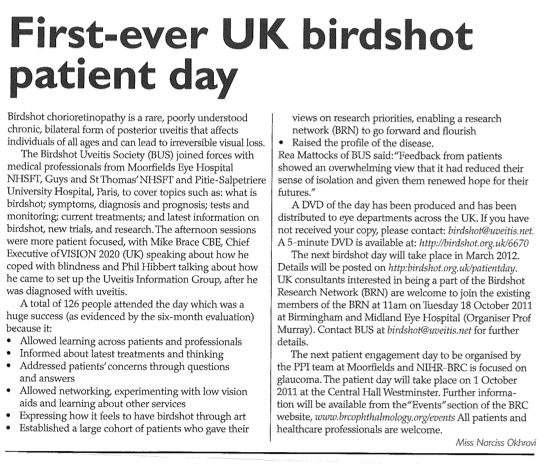 We are delighted to receive this publicity and very much hope that Ophthalmologists interested in Birdshot get in touch with us to find out more about the Birdshot Research Network Meeting which is taking place in Birmingham on the 18th October.
There are only a limited number of spaces so if you are interested in becoming involved and want to attend this meeting you need to contact us quickly before all the places are taken.
Annie and Rea