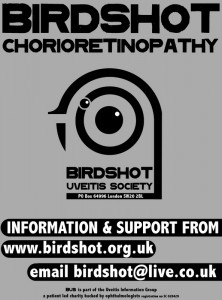 We will be trying to place our new A4 hospital poster in eye clinics where uveitis is treated, so people who have a diagnosis of Birdshot can contact us for information and support.
If you want to make sure that the eye clinic you attend displays the poster, we would be grateful if you could write to us at Birdshot@live.co.uk with the name and address of your clinic/eye hospital and the name of your consultant.  We want to make sure we get the posters to the right person.  Alternatively, if you would like to take the poster in yourself, write to us at Birdshot@live.co.uk and we will send you copies.  There is also a version in  yellow and black.
Please help us to spread the word.
Once again our thanks must go to  David Bethell,   (our logo designer) , who has designed this striking poster for us.  We are very grateful for his valuable contribution in helping to get BUS and Birdshot better known.