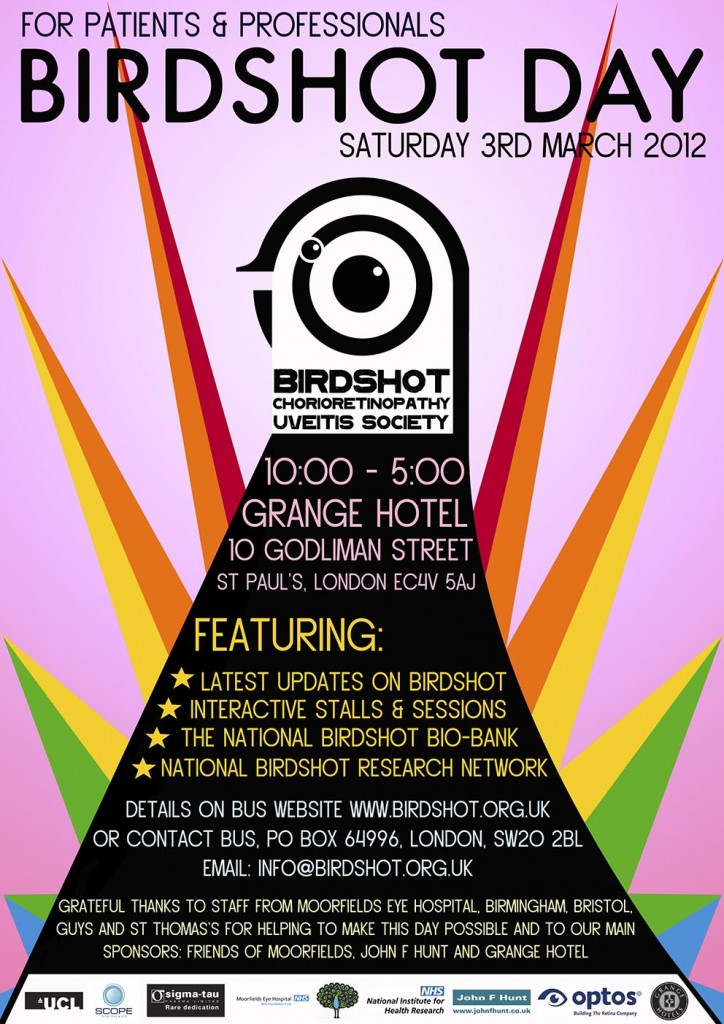 We are delighted to be able to invite you to our 2nd Birdshot Day on Saturday, 3rd March 2012.
We will be launching the National Birdshot Research Network and, if we can raise the funds, the National Birdshot Bio-bank. We hope that this will be the start of research into the causes, prevention and treatment of Birdshot. On this Day, you will find out how you can play your part in developing the research, and you will be able to network and socialise with our 'Birdshot Community' – made up of professionals, people with Birdshot and family members.
We know that when you attend for your appointments, there is often not enough time to ask all your questions, so we are focusing on allowing you to:
Meet experts in the field of Birdshot
Meet other patients with a Birdshot diagnosis
Ask questions about Birdshot
Ask questions about medication
Find out about new treatments and research
A two course buffet lunch, tea and coffee will be provided.
Please register on line to reserve your place, or print off and fill in the form found here and send it to us at PO Box 64996, London SW20 2BL.   The Birdshot Day leaflet can also be downloaded here as a word document or as a Birdshot Day Registration leaflet.  You are very welcome to bring a member of your family or a friend with you. We welcome everyone who attended the last event and we hope that many others who want to be involved in research or learn more about Birdshot will attend too.
As before this event is being organised by BUS, Narciss Okhravi and key people from Moorfields. The fact that we have been able to organise our second day and formed the National Birdshot Research Network  is testament to the hard work and commitment of these people.
We are most fortunate to have the continued  help and support of Professor Miles Stanford of Guys and St Thomas's NHS Trust, Mr Carlos Pavesio, Miss Narciss Okhravi and Mr Mark Westcott from Moorfields Eye Hospital, Professor Andrew Dick of Bristol Eye Infirmary and Professor Phil Murray of Birmingham University.
We very much look forward to meeting you all on the 3rd March 2012
REA AND ANNIE
Email: info @ birdshot. org.uk
Book your places now!
As before, the conference, including lunch, is free, as we have managed to obtain sponsorship but we do require a £20 refundable registration deposit (plus £1 non-refundable administration fee to pay for postage and Paypal fees) – your registration fee will be returned when you attend the Day, but if you choose to donate your registration fee to help BUS develop the next Birdshot Day, we very warmly welcome this. You can pay your registration fee by using the button below (debit and credit card & PayPal), or by sending a cheque by post to BUS.
If you are claiming benefits or on a pension we will waive the deposit as we do not want to prevent people attending due to financial constraints.