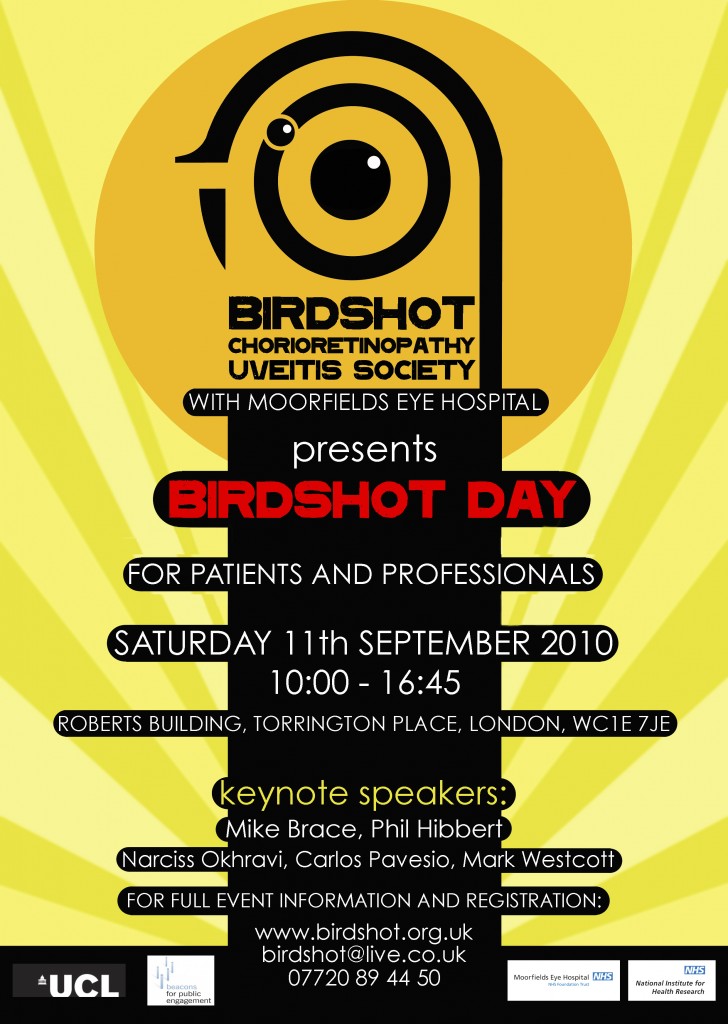 We have been advertising the Birdshot Day and our website  in as many places as possible, as we want everyone who has birdshot, their families and friends and health care professionals with an interest in the condition, to have the opportunity to come to participate and learn.
Graphic Artist David Bethell has designed another superb poster specifically to advertise the day.    Please contact us at Birdshot@live.co.uk if you would like  a  copy of the poster to display in the eye clinic (you will need to ensure you give it to the right person to get it displayed).  If you prefer you can download the poster from the site and print copies.   We have a choice of colour or black and white.
We need your help to make sure the Birdshot Day is widely publicised in the right places.
We now have links to the Birdshot Uveitis Society's website on a growing number of national and international sites as well as sites such as Facebook, Wikipaedia, Rareshare, Birdshot lefora forum and  a many more.  If you have ideas about other places we should advertise our Birdshot Uveitis Society website and the  Birdshot Day,  we would be  grateful for your suggestions.
Below are a number of links to sites where the Birdshot Uveitis Society is mentioned.
Many thanks.  Annie
Guide Dogs for the Blind
Article in Orphanet News April 21st about the Patient Day
RNIB – Rare Diseases and the  Events listing