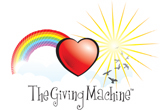 We have recently signed up to the Giving Machine  so that you can make donations on-line while you shop.  Its easy – you just have to register and choose Uveitis Information Group as the charity that you support.
You can now generate free cash donations for Uveitis Information Group (BUS's affiliated charity)  every time you shop online.
The Giving Machine
It will not cost you anything extra – the online shop pays the donation on your behalf. Just go to www.TheGivingMachine.co.uk :
JOIN as a shopper/giver
CHOOSE to support Uveitis Information Group
REMEMBER to shop at TheGivingMachine every time you buy online
TheGivingMachine™ You Shop, They Give.