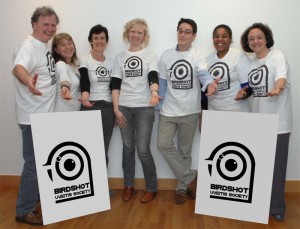 We are delighted to announce the  publication of a paper about the 1st Birdshot Day which, as you will see  from the list of authors, involved many of us.  It was published by the British Journal of Ophthalmology (on-line), on the 7th March 2013 .
"The importance of patient and public involvement (PPI) in healthcare decisions and research is increasingly recognised. This paper describes the aims, delivery, evaluation and impact of a 'Birdshot Day' organised for patients with birdshot uveitis, their carers and healthcare professionals."
The link below takes you to the abstract and the photograph above shows some of the people involved. (Right to left, Rea Mattocks, Annie Folkard, Nik Koutramanos, Claudia Wilson-Barrett and Narciss Okhravi)
http://bjo.bmj.com/content/early/2013/03/06/bjophthalmol-2012-302134.abstract
If anyone want to reads the whole paper please let us know and  we can send you a copy of the word document which was submitted to the British Journal of Ophthalmology.
This publication in the BJO is a great way to get BUS and Birdshot more established amongst the  professional health community.