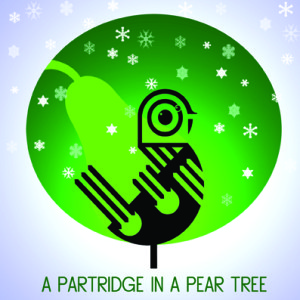 Once again the Birdshot Uveitis Society's unique Christmas card has been designed for us by Birdshot Uveitis Society member David Bethell.  From next week (15th October) they will be available for people to purchase.  All profit from the sale of these cards will support the work of the Birdshot Uveitis Society.
Cards measure 140mm x 140mm and are printed on a quality card.  They come in packs of 10 with white envelopes and are priced at £3.95 per pack.  The greeting inside the card is "Merry Christmas and a Happy New Year".
To order your cards:
Please simply click add to cart button below, type in the number of packs of cards  you wish to purchase, click update and follow the instructions using either a credit card or Pay Pal to pay for your order.
If you wish to have cards sent to you overseas please email us with your request and we will invoice you with the correct amount to pay via Pay Pal and will dispatch them to you once we have received payment.
You may also order via the post by sending your order and cheque made payable to Birdshot Uveitis Society to BUS Box 64996. London SW20 2BL.
Postage and packing rates
Country
No of packs                                                          Rate
 UK
1 – 5 packs
£3.25
UK
6 – 10 packs
£6.00
More than 10 packs
Please email us with your order so we can calculate your postage.
Rest of World
40% of purchase price, minimum £4
Last date for UK orders to allow posting to you before Christmas: 13-Dec-12  Purchases after this date are delivered at your own risk of late delivery
If you want us to send cards overseas, please make sure you allow enough  time for delivery.
Thank you!