Hampton Village Christmas Fair
Chinos, a local Hampton cafe as part of the Hampton Village Christmas Fair sold soup and chestnuts to raise funds for BUS, with 75p from each sale going to the Birdshot Uveitis Society.  They decided to support BUS in this way because our treasurer Peter Edney had told the cafe owner about the troubles his wife Janie has been having with her vision and the work of the Birdshot Uveitis Society. By selling soup to their customers no one was more surprised about the success of this initiative than Peter and Janie when they were handed £75.00 from the sales achieved at the Christmas Fair. Apart from this Chino's were also selling the BUS Christmas cards and raised another £65.
So well done Chinos!!
Embroidered Tablecloth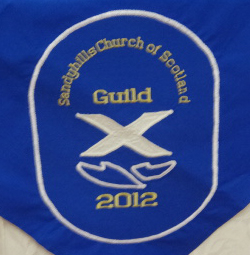 A donation for an embroidered table cloth made by Liz, from Glasgow resulted in BUS receiving a cheque for £50.  The Church Guild who she made it for split the donation between us and a Cancer charity that Liz also supports.  Thank you so much for this.